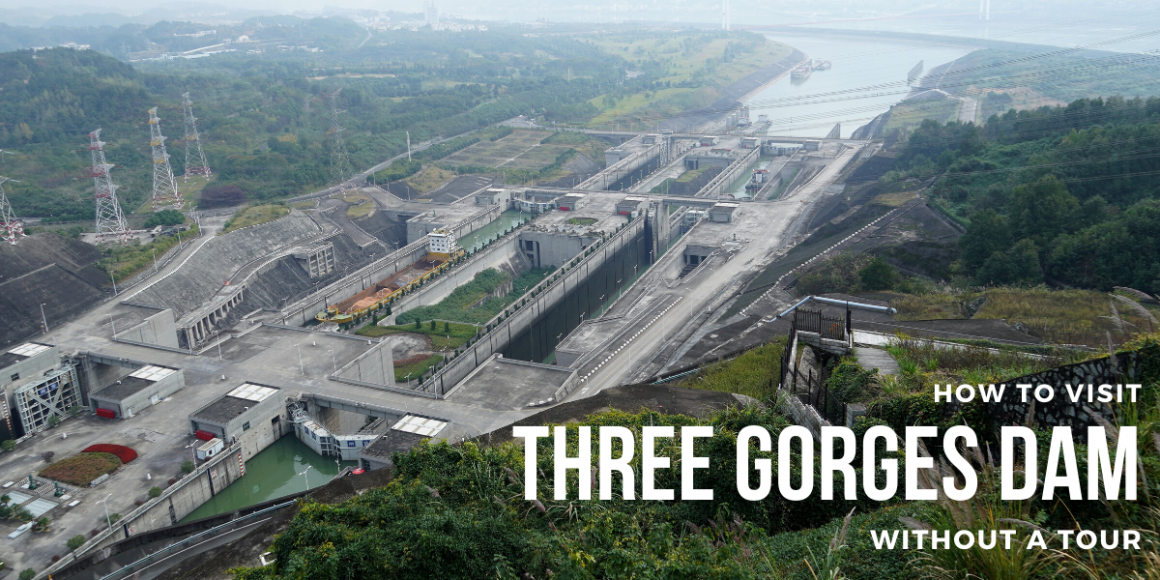 How to Visit the Three Gorges Dam Without a Tour
Scroll down if you only care about HOW to visit the Three Gorges Dam on your own. But keep reading if you're curious about WHY I even bothered.
It is no secret that I have a love-hate (mostly hate) relationship with travel within China. I don't like crowds, something very difficult to avoid in a country of 1.3 billion people. Then add to the mix the well-earned reputation of Chinese tourist and you can see why I struggle to travel in this country. Yet, here I am traveling to China's #1 industrial tourism site.
But why even put myself through this potentially harrowing process?
The Three Gorges Dam is the world's largest and longest. It has the largest hydroelectric generating capacity and might be the most expensive dam ever built. Filling the reservoir created by its construction slowed down the earth's rotation thus increasing the length of the day! Who wouldn't want to see that in person???
But seriously, when I started my career as a geography teacher, the Three Gorges Dam was a big topic of discussion. The construction of a single dam across the Yangtze River that would flood thousands of cultural sites, displace at least 1 million people and wreak havoc on the environment (#RIP Chinese river dolphin) was a pretty big deal.
I mean, how could I NOT visit? Besides, I've got a thing for dams… Yeah, I'm a nerd.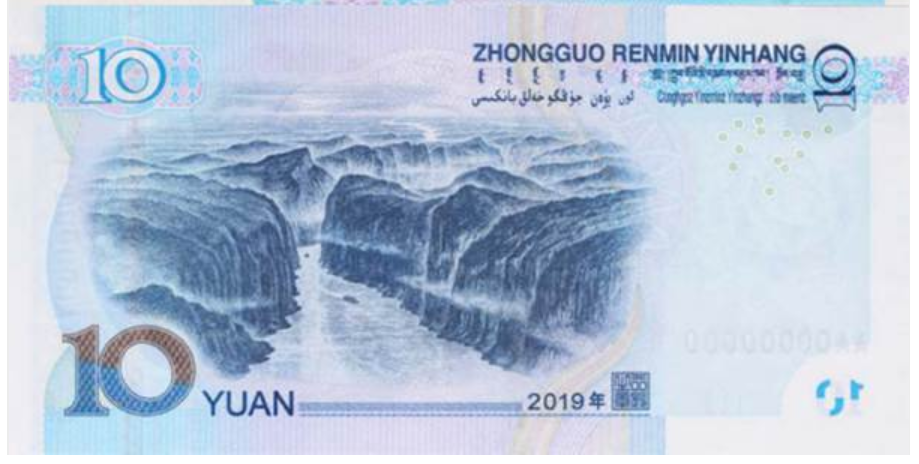 The visually stunning landscapes of the Three Gorges region have attracted tourists for years and are best viewed via a multi-day cruise. A quick web search for info on visiting the Three Gorges Dam almost exclusively finds cruises that tour the gorges, with the dam as an afterthought.
There are two problems here:
I hate cruises.
This nerd only wants to see the dam, not the gorges.
Researching tourist attractions is its own special struggle here in China since nearly all websites are in Chinese and usually not up to date.
Through some serious detective work on my part, I was able to find out that it is indeed possible to visit the Three Gorges Dam Tourist Area. Although I wasn't exactly sure what this was, where it was located or even exactly how I could get there.
A little more digging helped me figure out that wherever this "tourist area" was located, once there I could catch a bus that would take me to the dam.
Visiting the Three Gorges Dam
Despite my distaste for Chinese tourists, crowds and being stared at constantly, I put those reservations aside and hoped a train Hubei province to visit the Three Gorges Dam Project.
To keep my suffering to a minimum, I knew I'd need to visit in the off-season AND avoid holiday weekends – which are the same for all Chinese workers and why crowds are massive. The first weekend of November seemed like a good choice since the weather was still reasonable. TIP: If you want to see water being discharged from the dam, it is best to visit during the summer which is the rainy season.
It is a 4-hour train ride from where I live (Hefei) to the closest city to the dam (Yichang), which made this trip totally doable on a regular weekend. My co-worker, who also shares my enthusiasm for dams, speaks a little Chinese, so bringing him along on this adventure was a no-brainer.
How to Get to Yichang
We hoped a train on a Friday afternoon which cost 241¥ ($34) per person, each way. Train stations are extra busy on Fridays so it's a good idea to pick up your ticket, which you can buy online or at the station, earlier in the week.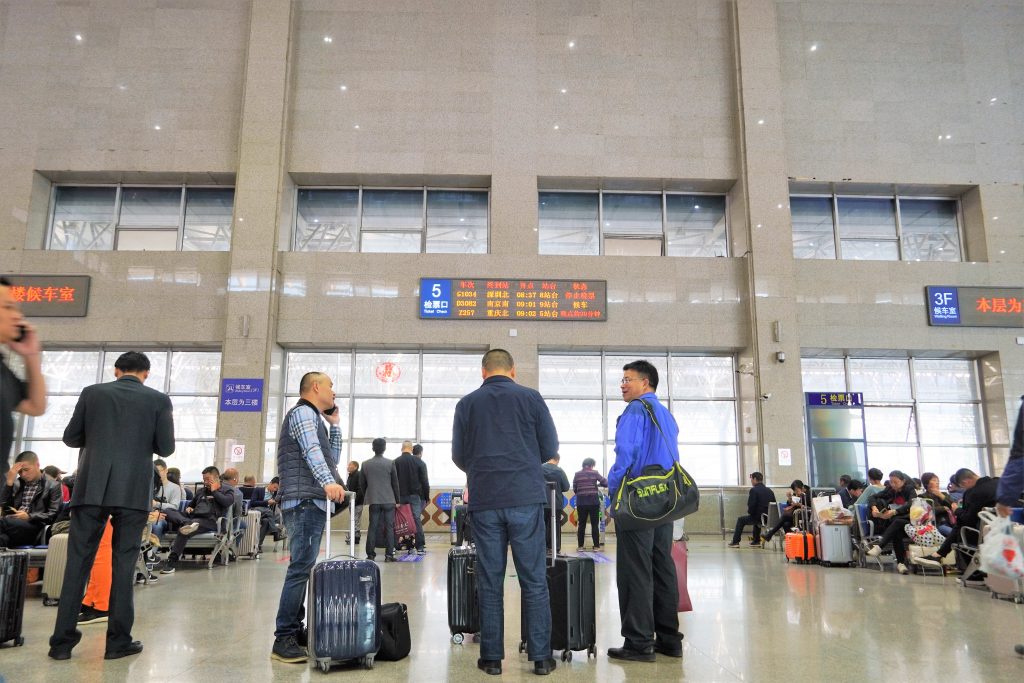 Where to Stay
I highly recommend staying at the brand-new Holiday Inn Express Yichang River. It is located near the train station, has Western bathrooms, is very clean and has free breakfast. There is a "four-star" hotel located within the Three Gorges Tourist Area but I can't vouch for it.
How to Get to the Dam
By Saturday morning we still had no clue how to get to the tourist area, so we asked about it at the hotel's front desk. I'm pretty sure something got lost in the translation because we ended up at a travel agency where they proceeded to try to sell us a tour that wouldn't leave for another 5 hours.
It seems that independent travel is not really a thing in China so expect to be pushed to purchase tours by just about anyone you speak to.
Unable to get the travel agents to understand that we wanted to take the bus on our own, we were able to get a Didi (similar to Lyft) to take us to the dam for 100¥ ($15).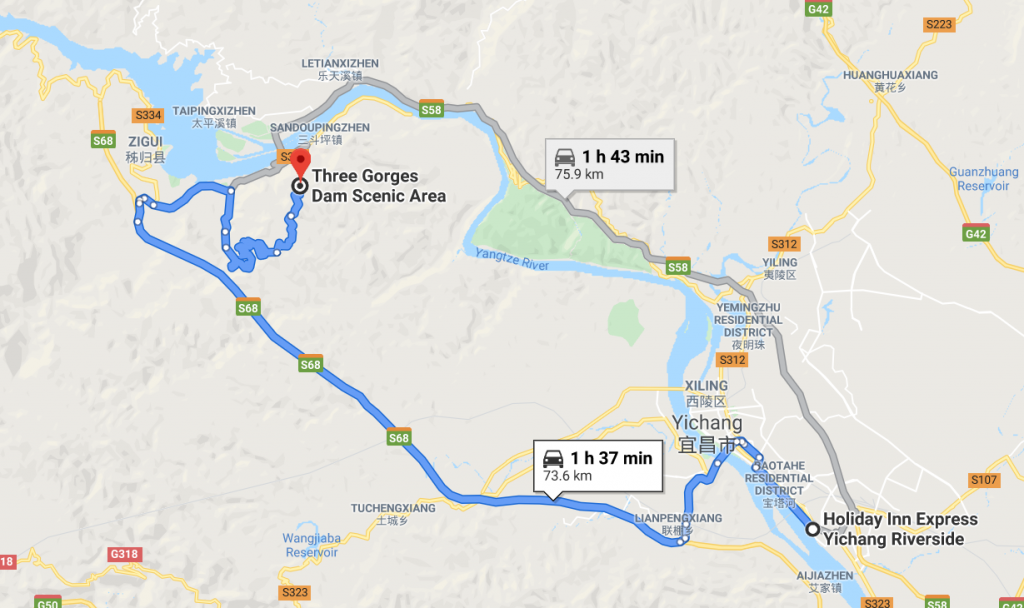 Depending on traffic, it takes about an hour to get to the tourist area. Foreigners pay 35¥ ($5) for a ticket which includes a round trip bus from the tourist visitors center to the dam complex. You don't need Chinese to navigate the ticket buying process but if you have someone who does, it definitely helps.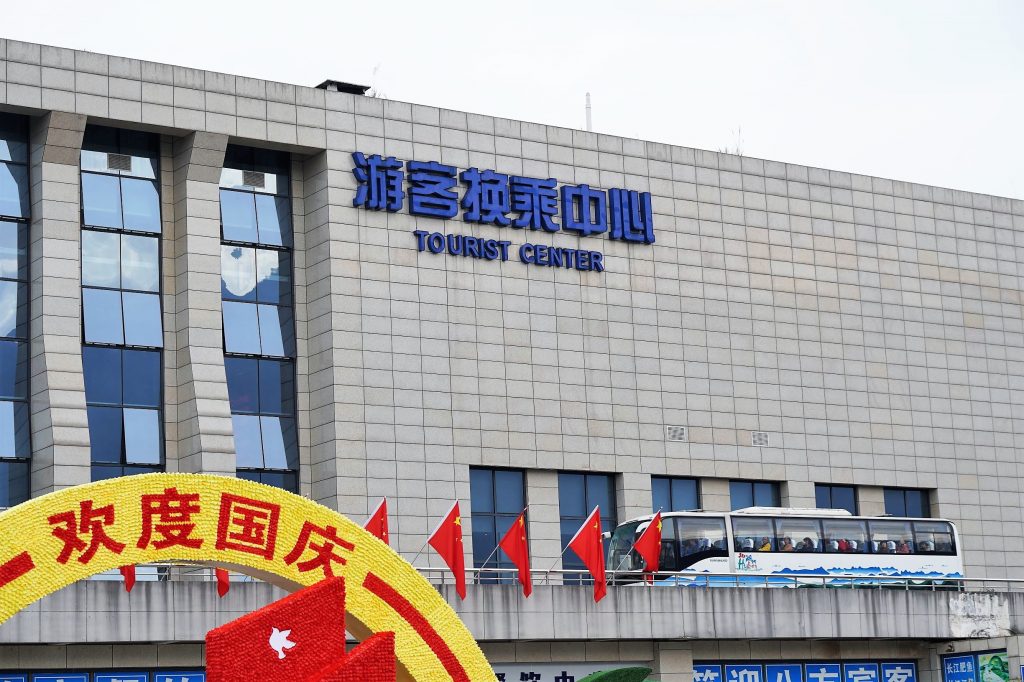 After buying the ticket, proceed through security then upstairs to a waiting bus.
TIP: On the way to the dam, I suggest sitting on the right side of the bus to get the best pictures.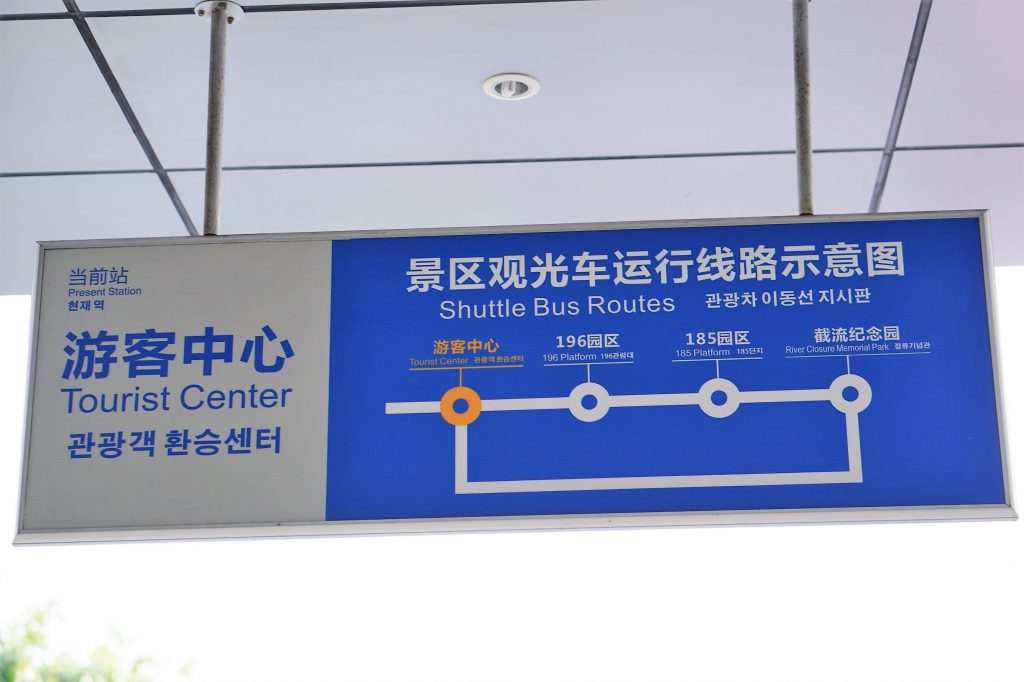 Our first stop was the ship locks, from there we were able to walk up to the Tani Ling viewing spot. There are stalls selling food and souvenirs as well as bathrooms. You can walk on to Platform 185 or pay 10¥ ($1.5) to ride the tram.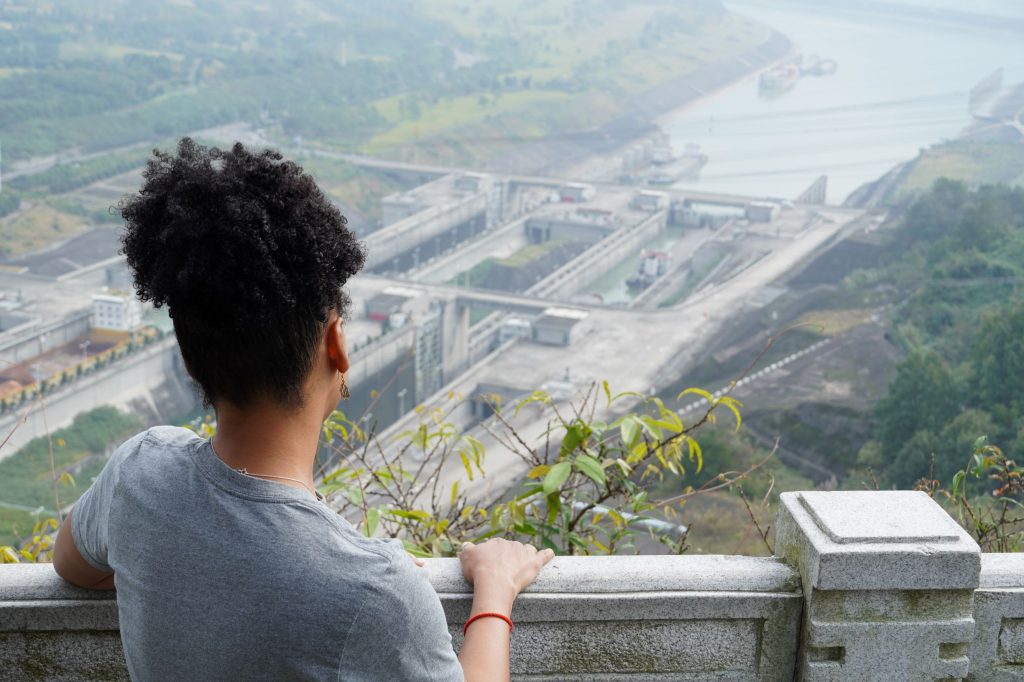 It is at Platform 185 that you get the best views of the ship lift and reservoir. Here you can also buy snacks, drinks and a variety of souvenirs; but I'm not 100% sure if there are bathrooms.
When you exit Platform 185 there are buses waiting to take you across the Xiling Yangtze River Bridge to Closure Memorial Park. TIP: As you exit the parking lot and descend downhill making a right turn there will be an awesome photo opportunity to get an image of the dam straight on. Again, the right side of the bus is best.
Closure Memorial Park seems to be a collection of random leftover dam construction materials from best I can tell. Initially, we weren't interested in this stop, but we had to walk through it to get to the next set of buses, so we did it.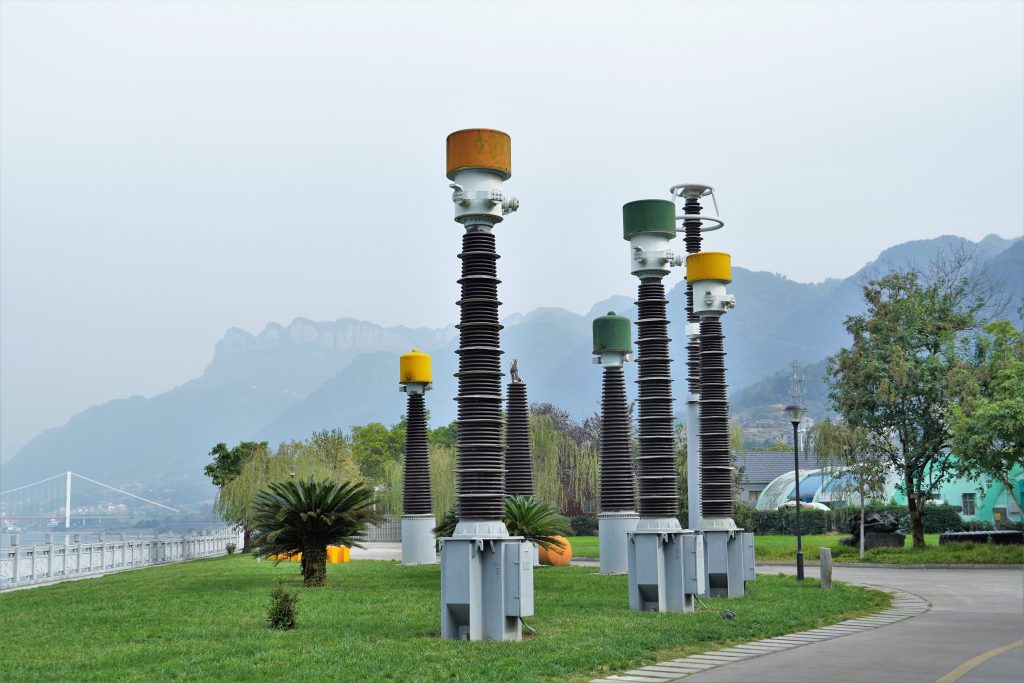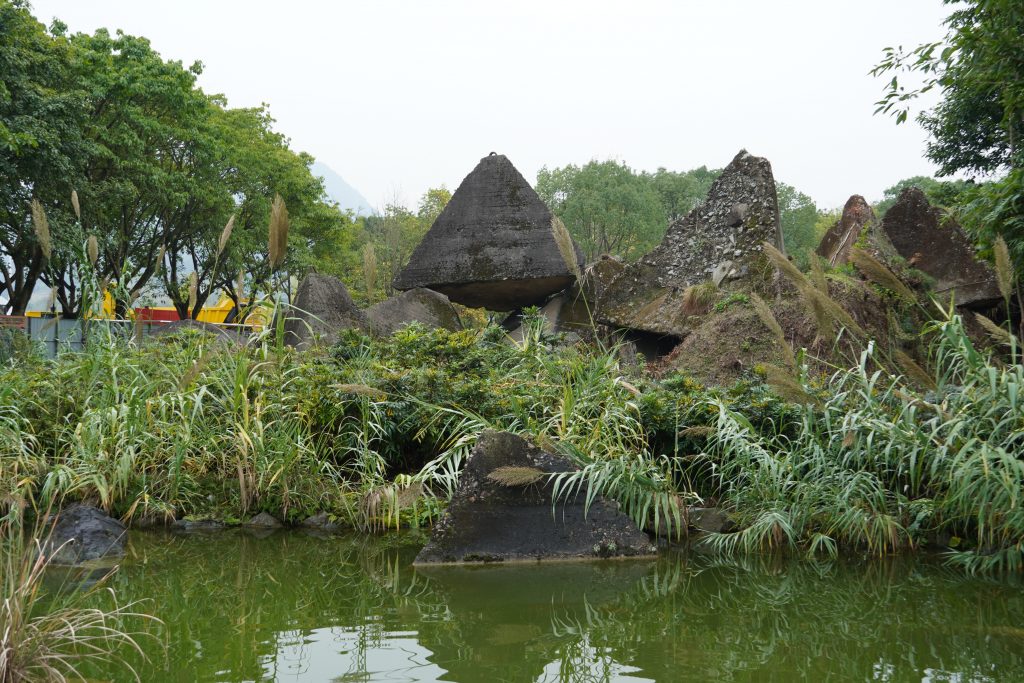 The park turned out to have the best views of the front of the dam and its spillways. If the air quality had been better (although I'm not sure it ever is) the view would have been truly spectacular.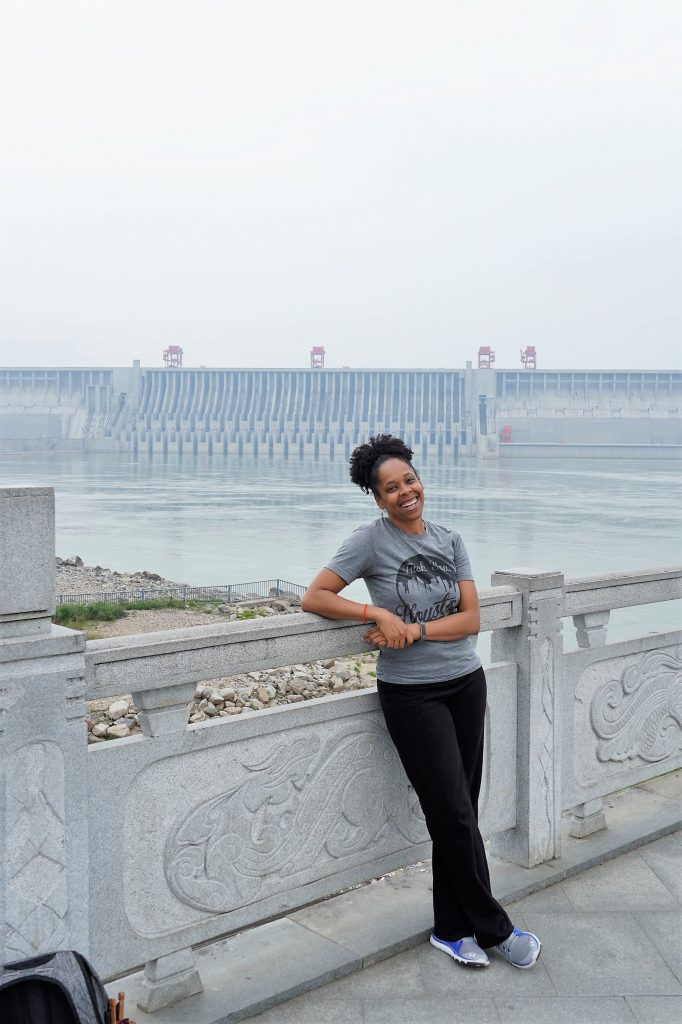 Since the Chinese firmly believe in providing you with ways to spend your money, inside of Closure Memorial Park there are several food stands, souvenir shops, and virtual reality experiences to take advantage of.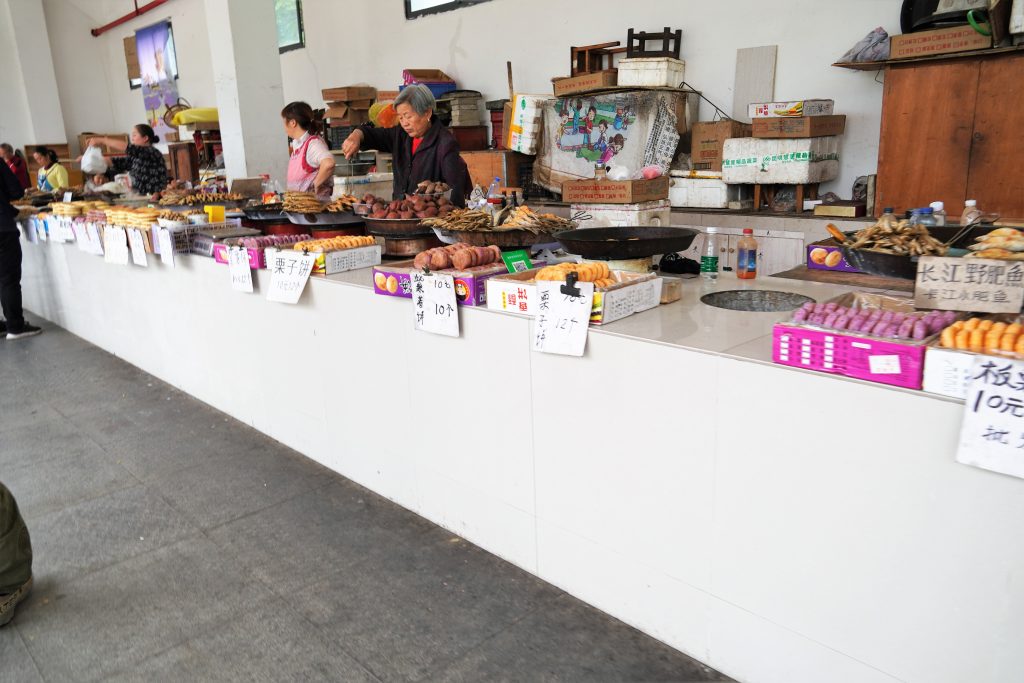 The entire experience took about 2.5-3 hours and we did not rush. Getting a Didi back to Yichang was not a problem.
And there you have it.
The crowds were small.
I survived.